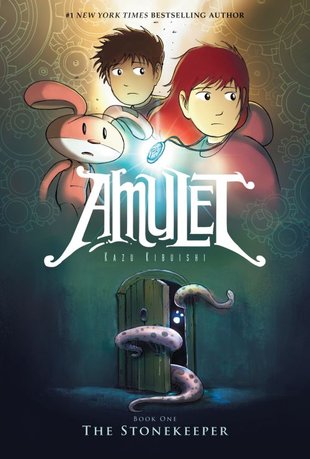 Look inside
Amulet #1: The Stonekeeper
THE place to come for massive fantasy adventures (if man-eating demons and giant robots don't phase you.) Dare you enter a graphic world that'll thrill you, scare you and blow your mind? If that's a 'yes', follow Emily and Navin into the sinister underworld beneath their house. After their dad dies, Emily and Navin move to their mum's late great-grandpa's home. But it's a spooky place – and the danger isn't all in their minds. When a sinister monster lures Mum through a door in the basement, Em and Navin follow her into a dark underground world. It's a place of demons, robots and talking animals – including cute little mech-rabbit Miskit. Can Emily and Navin defeat a hideous monster, unlock their secret destiny – and save the person they love most?
Breathtaking fantasy in a graphic novel format
New York Times bestseller and

ALA

Best Book
Full-colour art by comics star Kazu Kibuishi
Film rights recently sold to 20th Century Fox
#film-tv-march17
#reluctant-readers-17
Who's reading this?
We want to read this book