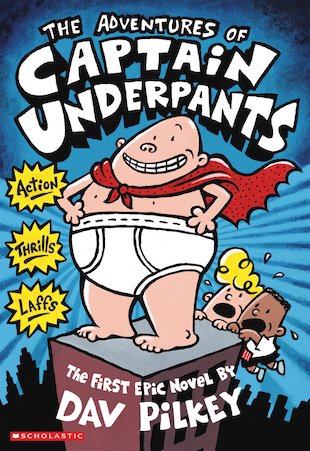 Look inside
Captain Underpants #1: The Adventures of Captain Underpants
When naughty George and Harold hypnotise their headteacher, they accidentally create the greatest superhero in the history of their school — CAPTAIN UNDERPANTS! His true identity is so secret that even HE doesn't know who he is, but he's fighting for Truth, Justice and All Things Pre-Shrunk and Cottony! If you're a naughty villain like the diabolical Dr Diaper, watch out! Captain Underpants has wedgie-power on his side, and he's coming your way. Stop, in the name of Underwear!
#reading-lists-7
#humour-books
#lol
#top100-092016
#top100-ages7to9
#rr-year4
#watchbeforeyouread-17
#top-100-201718-primary
#top-100-201718-79
#top100age7to9
#top100-all
#top100-all1718
#top100age7to11
#top100-reading-collections
#sum-18-ie
Who's reading this?
We want to read this book