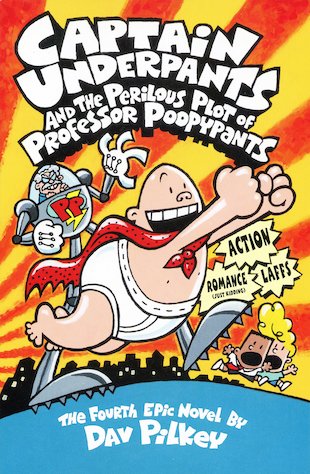 Look inside
Captain Underpants #4: Captain Underpants and the Perilous Plot of Professor Poopypants
Professor Pippy P. (Pee-Pee) Poopypants is a brilliant scientist who wants to change the world for the better – but his ridiculous name means that nobody takes his fantastic inventions seriously. And when the kids at Jerome Horwitz Elementary laugh at his name too, the poor professor SNAPS! Now crazy Professor Poopypants is on the rampage! He is armed with fiendish inventions Shrinky-Pig 2000 and the terrible Gerbil Jogger – and he's ready to use them! Only Captain Underpants can stop Professor Poopypants from shrinking the world to the size of a pair of pre-shrunk pants. But can he save its people from a fate even worse than shrinkage: being given a terrible toilety name like Fluffy Toiletnose, Poopsie Chucklebutt and Chim-Chim Diaperbrains…?
#reading-lists-7
Fun Stuff
Activities
Wedgie power! A fun Captain Underpants picture to colour.

Happy Underwear Day! A Captain Underpants pic for you to colour!

Pants, wedgies and toilets… a fun Captain Underpants crossword for you!

A great picture of Captain Underpants to colour and keep.
Who's reading this?
We want to read this book