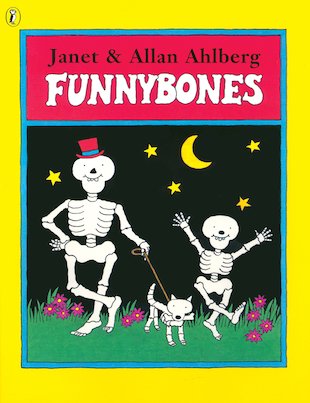 Look inside
Funnybones
A much-loved spooky classic by Janet and Allan Ahlberg. These cheeky skeletons really want to scare someone! BOO! In the dark dark cellar of a dark dark house live a big skeleton, a little skeleton and a dog skeleton. One dark dark night, the skeletons sneak out on a mission to frighten someone! But – uh-oh. Everybody is in bed. They'll just have to scare each other. But soon they find some others who want to play: the skeleton animals in the zoo!
A classic that has delighted readers for over 25 years
Supports early reading with repetition of simple words
Witty, reassuring story which soothes fear of the dark
From a best-loved, Greenaway Medal-winning team
#younger-readers
#young-readers
#magical-spooky
#ey-books
#young-readers-1
#early-books1
#readandrespond-0816
#top100-092016
#top100-ages5to7
#halloween-1016
#funnybooks-springclub-17
#top-100-201718-primary
#top-100-201718-57
#top100age5to7
#top100-all
#top100-all1718
#top100age3to7
#gift-guide-mini-bestsellers
#top100-reading-collections
#isbc-funny-books
#sum-18-ie
Who's reading this?
We want to read this book