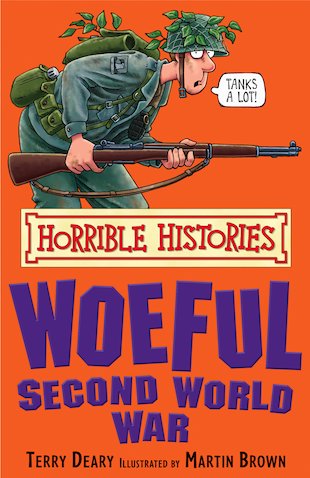 Look inside
Horrible Histories: Woeful Second World War (Classic Edition)
If you ever hear old folk moaning on about the world today, just remind them how woeful things were in World War II. When Hitler's horrid army were goose-stepping round the globe, nearly everything in Europe was totally AWFUL! Read on to discover…
The dreadful truth about Dad's Army
What happened when an elephant got loose in the blackout
Who made a meal out of maggots
Which smelly soldiers were sniffed out by their enemies
Why wearing white knickers could kill you
What with doodlebug bombs dropping out of the sky and sweet rationing driving kids (and teachers) mad, life in the Second World War was truly wicked. So from snow-bound cities under siege to fly-infested jungle trenches, and from rotten rationing recipes to awful invasions, discover all the dire details about the worst war EVER!
#holocaust-memorial-day
#horriblehistories-shopall
#horriblehistories-wartime
#wartime-reads-wbd
Fun Stuff
Quizzes
Activities
Follow the puzzle to find out what each of the knights won in their tournament.
Who's reading this?