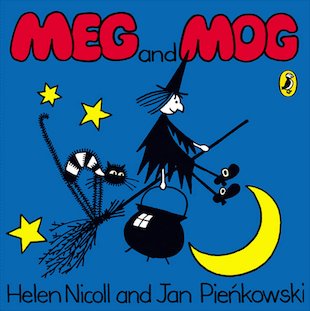 Look inside
Meg and Mog (Board Book)
A magical classic to get little folk chuckling. It's Halloween, but Meg and her cat Mog have got their spells mixed up! What's so great about this funny classic? Is it the wacky pictures, with their bold colours and cheeky scribbles? Or is it chaotic little witch Meg and her stripy cat Mog, whose fur always sticks up? Or what about the bit where Meg makes a magic potion with a worm, a bat and a spider? (Ugh.) We'll tell you a secret: Meg's spells nearly always go wrong!
The much-loved first story in this timeless series
A hilarious joy full of expressive, witty artwork
Comical story of friendship, magic and muddles
Helps children explore colours, sounds and shapes
Fun Stuff
Activities
A fun picture of Meg, Mog and Owl to colour.

Can you draw all the ingredients for Meg's Halloween spell?

Help Meg find her way through the maze to Mog.

Can you spot the differences between these two pictures?