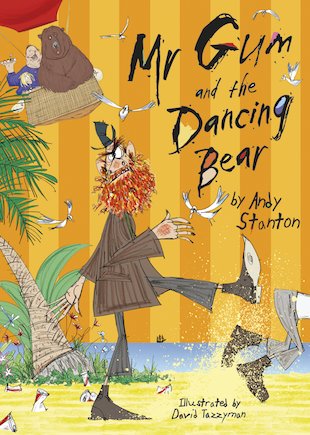 Look inside
Mr Gum and the Dancing Bear
Horrible Mr Gum is back with another terrible tale for all you nibbleheads! "Good evening. Do you like bears called Padlock? Course you do. Do you like hot-air balloons? Course you do. Do you like tall sailing ships with mad sea captains, and horrifying old villains and words like 'wab!', 'tungler' and 'kelp'? COURSE you do! Well, guess what, you lucky little nibbleheads? This book's got all of those things – and a lot more besides!" Shabba me whiskers! It's a chuckle bonanza!
Winner of the Roald Dahl Funny Prize 2008.
"Quirky, odd and deliciously funny." Sophie Dahl
Fun Stuff
Activities
Download this bonkers wallpaper for your computer!

Download the Mr Gum Card Tournament, complete with character cards with ratings for hairiness, intelligence, stink factor and more!

Download this funny Mr Gum wallpaper for your computer!
Who's reading this?