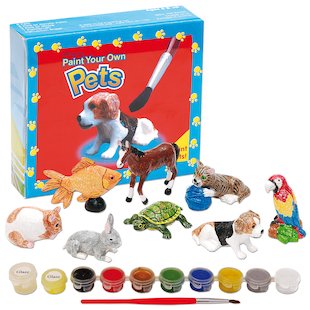 Look inside
Paint Your Own Pets
Eight adorable pets to paint and play with. Now it's cute to be creative! Love pets? Then turn your bedroom or garden into an animal sanctuary. There's a fluffy hamster, a cheeky kitten, a bouncy bunny and a wrinkly tortoise. Or will your favourite be the horse, or the colourful parrot? All the pets you could ever want – and all the paints and extras you'll need to paint them. Total animal madness. Except this idea is so smart.
Creative fun with eight model animals to paint
All your favourite pets, from puppies to ponies!
With a brush, two glazes and eight mini paint pots
Collect them, display them or play games with them