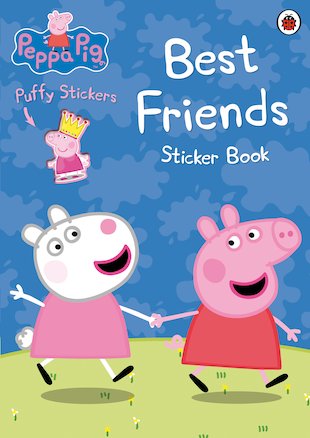 Look inside
Peppa Pig: Best Friends Sticker Book
Peppa and her friends are having a sleepover, and then they're off on a camping adventure! Come along and join in! Candy's sharing a tent with Rebecca, and Emily is sharing with Zoe. But who is Peppa sharing with? Read the cute friendship stories, do the fun puzzles – and stick in all the colourful puffy stickers!
Fun Stuff
Quizzes
Activities
Peppa loves to ride her bike, and now you can colour her in!

Colour this picture of Peppa's mummy reading her book.

Fill in the gaps in this Peppa story by using the words below.

Daddy Pig shares his top tips for learning to read Peppa Pig style!

Make your own Peppa Pig bookmark.

Colour this picture of Peppa's daddy reading his newspaper.

Colour this fun picture of George playing with his spotty ball.

Colour Peppa's house and the draw a picture of your home!

Everyone loves to jump in muddy puddles, especially Peppa and her family. Use your brightest colours!

Peppa and George love muddy puddles! Read the poem and shout out the right word when you see a picture.

Download your very own Peppa Pig certificate for piggy-tastic reading!

The words in the quiz are all missing letters. Can you find the right ones?

Here's a summery Peppa word puzzle for you to solve.

Reward piggy-tastic reading with a special Peppa Pig reading certificate.