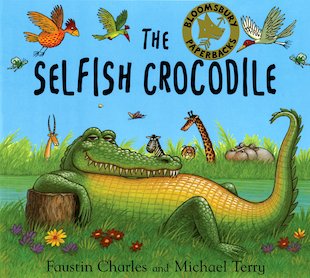 Look inside
The Selfish Crocodile
It's silly to be selfish, as this mean croc learns when he gets sick. Be smart. Be nice. The Selfish Crocodile thinks he owns the river. He's such a bully he scares all the jungle animals away. But one day, the frightened critters near the waterhole are woken by a groaning crocodile with toothache. Now the Selfish Crocodile needs a friend to look at his huge teeth. But who'll dare to help? A funny lesson about manners wrapped up in bright, bold jungle colours. It would be selfish to keep this book to ourselves!
Classic picture book fun with a lesson about manners
Brilliantly bold, witty illustrations by Michael Terry
Simple look at the value of friendship and kindness
A firm favourite adored by kids and parents worldwide
#anti-bully-picturebooks-bullying
#anti-bully-picturebooks-2018
#anti-bully-allpicturebooks
Who's reading this?
We want to read this book