Magic Ballerina Game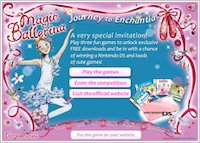 Use this resource
Play now this will open in a new browser window
A very special invitation to journey to Enchantia and earn your ballet shoes!
Help
IMPORTANT NOTE: You may need Flash
To use this resource you need Adobe Flash installed on your computer. Unfortunately, latest browsers no longer support Flash and you may therefore experience difficulties using the resource.
Please bear with us whilst we convert our interactives to work for all members and on mobile devices. Please check back soon...