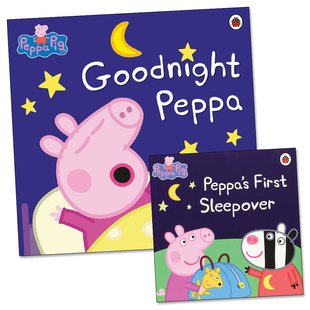 Look inside
Peppa Pig: Goodnight Peppa with FREE Peppa's First Sleepover Mini Edition
Catch Peppa's yawn! (And her FREE sleepover story.) Take a break from muddy puddles. It's time for a jolly good snooze. What do you love even more than a cosy nap? Well – how about two soothing bedtime stories about Peppa? A double dose of bedtime bliss to get you in the mood for sleepytime. In Goodnight Peppa, your favourite piglet is having trouble settling down. No problem: everyone will be fast asleep by the end of this funny story! Plus: how much actual sleep can you fit into the perfect sleepover? Zzzzz.
Two charming bedtime books about Peppa Pig
FREE

mini edition of Peppa's First Sleepover
Funny and reassuring stories with colourful art
Great way to get little heads nodding at bedtime
#film-tv-nov16
#film-tv-march17
#mini-series-sc17
Fun Stuff
Activities
Peppa loves to ride her bike, and now you can colour her in!

Everyone loves to jump in muddy puddles, especially Peppa and her family. Use your brightest colours!

Download your very own Peppa Pig certificate for piggy-tastic reading!
Who's reading this?
We want to read this book