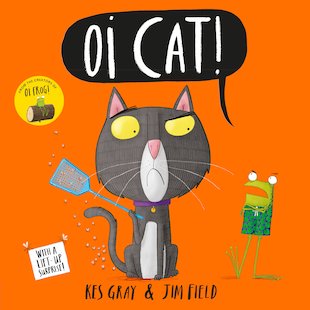 Look inside
Oi Cat!
Shortlisted for the 2018 Scholastic Lollies Awards.
Uh-oh. Why does Cat look so grumpy? Maybe he's fed up of people shouting 'oi'. (After all, it's rather rude.) But actually, the problem is worse than that. The problem is Frog's stupid rules. Frog says: cats sit on gnats, dogs sit on logs, raccoons sit on macaroons, armadillos sit on pillows and chicks sit on bricks. But wait! That's fine if you're an armadillo, but Cat doesn't like sitting on gnats. They keep biting his bottom! Why can't cats sit on bats, or hats, or (best of all) nice soft mats, like they're supposed to? Will Frog and Dog let him change the rules?
Another cheeky treat from this bestselling series
Oi Dog! won the 2017 Scholastic Lollies Award
Hilarious rhyme with Jim Fields's cheeky artwork
By the author of the award-winning Daisy books
#anti-bully-picturebooks-bullying
#anti-bully-picturebooks-2018
#anti-bully-allpicturebooks
#lollies-2018-shortlist
#lollies-2018-picture-books
#lollies-2018-all
#lollies-2018-picture-books-vote
#book-of-the-month-sep2018
#snowball-reading-list
Fun Stuff
Who's reading this?
We want to read this book