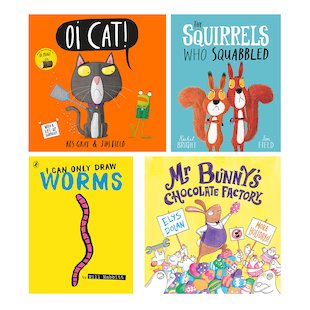 Look inside
Lollies 2018 Picture Books Shortlist Pack x 4
The funniest books on the planet – official! The full picture book shortlist from the 2018 Lollies Awards: the only book award that's all about making you laugh till you cry! If you've passed Scholastic Towers lately, you might have heard some odd noises. Weird groaning. Loud snorting. Peals of 'tee-hee-hee-hee'! What's going on? Well – we've been choosing the contenders for this year's Lollies Awards; a job that involves lots of loud laughing. And here they are: four of the silliest, cheekiest books of all time!
The full shortlist for the Lollies picture book category
This Scholastic prize celebrates the funniest books
Chosen by judge Michael Rosen and an expert panel
Wonderfully witty books by a range of top authors
#lollies-2018-packs
#lolpacks
#busterpacks
#valuepacks
#valuepacksall
#rewards-value-lollies
#rewards-value-jan19
#rewards-value-jan19-fic
Fun Stuff
Who's reading this?