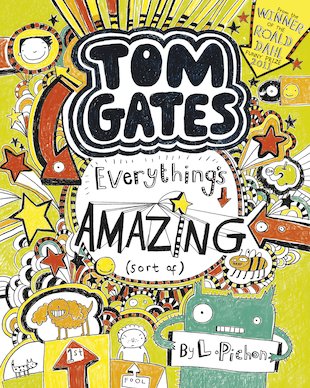 Look inside
Tom Gates #3: Everything's Amazing (Sort Of)
The third book in the bestselling  Tom Gates series of books from the brilliantly talented Liz Pichon.
Back to school, but it's not all bad.
Sports Day, the school fair and Tom's birthday are all coming up.
And even better, his awful big sister Delia won't be at any of those events!
On the downside, Granny Mavis is threatening to make his birthday cake – uh oh!
But on the other hand, Mr Keen has asked Dogzombies to perform in front of the whole school!
YEAH!
Maybe they can even play at the school disco too.
How can the term turn out any less than seriously amazing?
Tom Gates is a series of books in diary form
Full of Tom's doodles and pictures & his amazing sense of humour
The Brilliant World of Tom Gates, was the winner of the Roald Dahl Funny Prize!
Perfect gifts for boys & girls who love to laugh themselves silly
TOM GATES BOOKS
Brilliant World of Tom Gates (book 1)
Tom Gates: Excellent Excuses (And Other Good Stuff) (book 2)
Tom Gates: Everything's Amazing (sort of) (book 3)
Tom Gates: Genius Ideas (mostly) (book 4)
Tom Gates is Absolutely Fantastic (at some things) (book 5)
Tom Gates: Extra Special Treats (not) (book 6)
Tom Gates: A Tiny Bit Lucky (book 7)
Tom Gates:Yes! No. (Maybe…) (book 8)
Tom Gates: Top of the Class (Nearly) (book 9)
Tom Gates: Super Good Skills (Almost…) (book 10)
Tom Gates: DogZombies Rule (For now…) (book 11)
Tom Gates: : Family, Friends and Furry Creatures (book 12)
Tom Gates: Epic Adventure (kind of) (book 13)
Tom Gates: Biscuits, Bands and Very Big Plans (book 14)
Tom Gates: What Monster? (book 15)
Tom Gates: Mega Make and Do and Stories Too! (book 16)
Tom Gates: The Music Book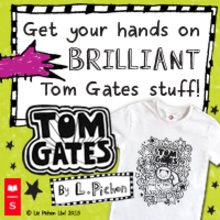 #reading-lists-9
Fun Stuff
Quizzes
Activities
Love books that tickle your funny bone? Check out our top tips of old favourites and the best new titles.

Tom's band is called Dogzombies. Can you think of some other names for a band?

Have you discovered the brilliant world of Tom Gates?
Who's reading this?
We want to read this book