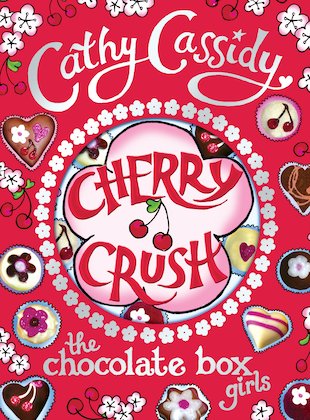 Look inside
The Chocolate Box Girls: Cherry Crush
Cherry Costello's life is about to change forever. She and Dad are moving to Somerset – where a new mum and four brand-new sisters await! And on Cherry's first day there, she meets Shay Fletcher. With suntanned skin and sea-green eyes, he's the kind of boy who should carry a health warning! But Shay already has a girlfriend: Cherry's new stepsister Honey. Cherry knows her friendship with Shay is dangerous. It could destroy her relationship with her new sisters. But can she bring herself to stay away from him? From the irresistible Cathy Cassidy comes this gorgeously sumptuous, true-to-life tale of sassy sisters, cute boys – and chocolate!
#anti-bully-olderfiction-bullying
#anti-bully-all-older-fiction
#anti-bully-all-olderandteen-fiction
#anti-bully-all-older-and-teen-fiction
Fun Stuff
Quizzes
Activities
Love Cathy? Download our free pack crammed with fun stuff to do!

Done any random acts of kindness lately? Draw or write about it here – or you could even take a photo!

Celebrate Best Friends' Day by trying out some random acts of kindness on your BFs.

Print off these FAB invites for your Summer Sleepover party and hand them out to your friends.

Download the Cathy Cassidy Summer Sleepover pack! It's filled with ideas for things to make and do at your sleepover, including strawberry muffins, personal pizzas, makeover ideas, fashion and talent show games, friendship quizzes, popcorn necklaces and much, much more!!

Download this pretty Cathy Cassidy wallpaper to brighten up your computer!

How many words can you find in this fab wordsearch?

Read the first chapter of Cathy Cassidy's Summer's Dream.