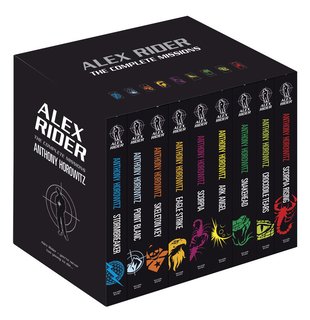 Look inside
Alex Rider Box Set
The deluxe box set! Teenage MI6 spy Alex is one cool cat with way more than nine lives. Star athlete. Amazing spy. Saviour of his country. Come along for the ride as he takes down evil villains all over the world. Snowboarding down a mountain on an ironing board? Tightrope walking between skyscrapers? This kid's life has more thrills than a runaway rollercoaster. Prepare to be shaken and stirred.
Contains nine books:
Alex Rider: Stormbreaker
Alex Rider: Point Blanc
Alex Rider: Skeleton Key
Alex Rider: Eagle Strike
Alex Rider: Scorpia
Alex Rider: Ark Angel
Alex Rider: Snakehead
Alex Rider: Crocodile Tears
Alex Rider: Scorpia Rising
#film-tv-nov16
#gift-guide-xd-magic-adventure
#gift-guide-teen-fantasy-adventure
Who's reading this?
We want to read this book