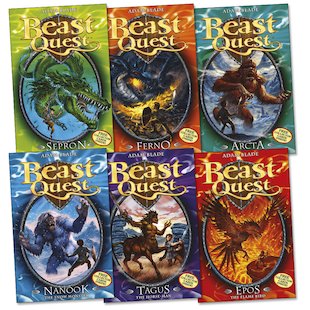 Look inside
Beast Quest: Series 1 Pack
Fight the Beasts. Fear the magic.
A time of terror has come to Avantia. An evil wizard, Malvel, has enchanted its magical Beasts. Now the creatures which used to protect the kingdom are destroying it. Avantia needs a hero – fast.
Tom is the son of legendary warrior Taladon the Swift, and has inherited his great courage and valour. Now Tom has been chosen to save Avantia by battling the Beasts that hold it to ransom. Only a true warrior can break Malvel's evil spell and defeat the bloodthirsty Beasts. Is Tom the hero Avantia is waiting for? While there is blood in his veins, he is determined to find out… The first stunning Beast Quest series!