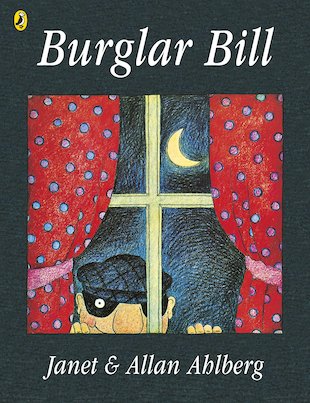 Look inside
Burglar Bill
Burglar Bill is a very naughty man. Each night, he eats a stolen supper and goes out stealing things. But when he accidentally steals a baby, it turns his naughty life upside down! Will Burglar Bill ever stop being so naughty? And how will he give the baby back? This cheeky tale by Janet and Allan Ahlberg is one of the funniest picture books of all time.
A timeless classic that children and parents love
By the brilliant team of Janet and Allan Ahlberg
Full of iconic images of Bill and his swag bag
Entertaining moral about turning over a new leaf
#modern-classics
#younger-readers
#young-readers
#ey-books
#young-readers-1
#early-books1
#readandrespond-0816
#top100-092016
#top100-ages5to7
#pboffer-1016
#top-100-201718-primary
#top-100-201718-57
#top100age5to7
#top100-all
#top100-all1718
#top100age3to7
#top100-reading-collections
#isbc-funny-books
#sum-18-ie
#page-turners-year-1
#piecorbettpageturners
#pm19-offer
Fun Stuff
Activities
Download this gorgeous 'Counting with Janet and Allan Ahlberg' poster.