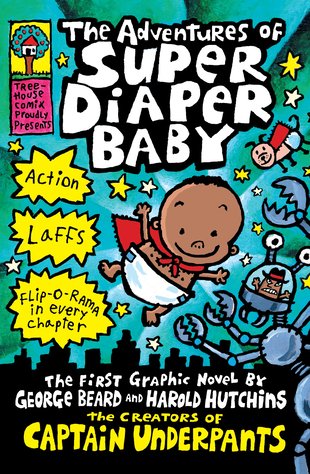 Look inside
Captain Underpants: The Adventures of Super Diaper Baby
George Beard and Harold Hutchins are seriously amazing kids. Not only did they create the one and only Captain Underpants, but they've saved the world FIVE TIMES! And now this dynamic duo bring you an all-new superhero! He's faster than a speeding stroller, stronger than diaper rash, and able to leap tall buildings without making poopy stinkers. Yes – Super Diaper Baby is the first newborn ever to fight crime, stomp on evil baddies and not even get his diaper dirty. But can he save the planet from diabolical Deputy Doo-Doo – a giant, evil, radioactive lump of YOU-KNOW-WHAT?
Fun Stuff
Activities
Pants, wedgies and toilets… a fun Captain Underpants crossword for you!

A great picture of Captain Underpants to colour and keep.

Colour this hilarious picture of Super Diaper Baby!