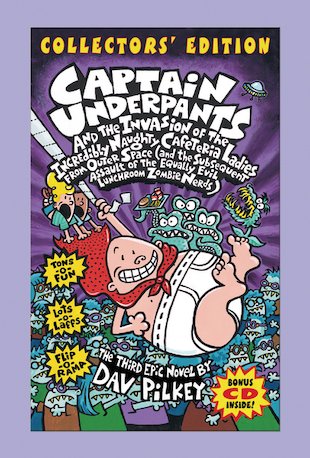 Look inside
Captain Underpants and the Invasion of the Incredibly Naughty Cafeteria Ladies from Outer Space
A collector's edition of a pant-tastic classic – even wedgier than ever! This special edition features a fabulous lenticular cover and a CD with songs, games and extra cool bonus STUFF!
There are three new lunch ladies at George and Harold's school, and there's something not quite right about them… not to mention their new menu of Zombie-Nerd Milkshakes and Boston Baked Boogers. That's because they're INCREDIBLY EVIL TENTACLED ALIENS in school cafeteria lady disguise! Thank heavens for Captain Underpants. He defeated the diabolical Dr Nappy. He terminated the terrible talking toilets. But does Captain Underpants have the wedgie-power to take on three power-mad space aliens and their zombie legions… and do battle with the Giant Man-Eating Dandelion of Doom?
Fun Stuff
Activities
Happy Underwear Day! A Captain Underpants pic for you to colour!

Wedgie power! A fun Captain Underpants picture to colour.

Pants, wedgies and toilets… a fun Captain Underpants crossword for you!

A great picture of Captain Underpants to colour and keep.
Who's reading this?