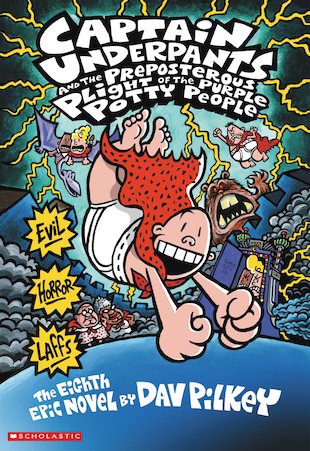 Look inside
Captain Underpants #8: Captain Underpants and the Preposterous Plight of the Purple Potty People
Everything goes VERY wrong when George and Harold fall into a parallel universe – and it gets even wronger when they run into their very own evil twins. Now the boys must face their most cunning enemies yet: themselves! And with Captain Underpants facing his own nemesis, the wicked Captain Blunderpants, will good or evil triumph? The fate of the galaxy might all depend on two new superheroes: Great-Granny Girdle and the brave Boxer Boy! Get set for chuckles and adventure in the name of all that is pre-shrunk and cottony – plus even more amazing Flip-o-Rama animation!
#reading-lists-7
Fun Stuff
Activities
Try your luck at the Cafeteria Ladies' Crafty Crossword!

Happy Underwear Day! A Captain Underpants pic for you to colour!

Wedgie power! A fun Captain Underpants picture to colour.

Pants, wedgies and toilets… a fun Captain Underpants crossword for you!

Can you complete this perplexing peewee-powered puzzle?

Yum yum, eat 'em up! It's the Talking Toilets Maze!

A great picture of Captain Underpants to colour and keep.

Learn how to draw Captain Underpants with our handy step-by-step guide.

Learn how to draw the Turbo Toilet with our handy step-by-step guide.
Who's reading this?
We want to read this book