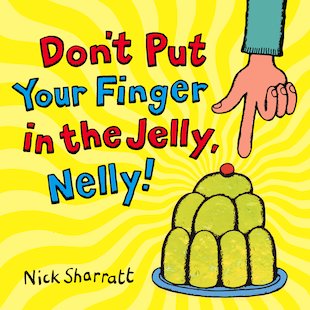 Look inside
Don't Put Your Finger in the Jelly, Nelly!
A peephole book of wild surprises. What's hiding in that yummy jelly? If you can't resist dipping your fingers into anything that looks tasty, this is the book for you. But be warned! Watch out! If you're not careful, you might upset a jellyphant. Or even disturb a hungry alligrator! SNAP! Dare you poke your fingers into a whole book of die-cut delights, just to see what you'll find? It's dangerously funny!
A classic interactive favourite bursting with zany fun
By the best-loved creator of Elephant Wellyphant
Full of real holes for kids to poke their fingers into
A winning combination of wordplay and discovery
Illustrated in Nick Sharratt's hallmark vibrant style
Fun Stuff
Activities
Design a mixed-up animal like Nick Sharratt.
Who's reading this?