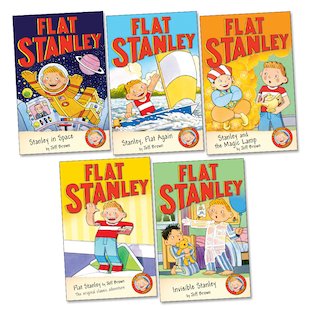 Look inside
Flat Stanley Pack x 5
This kid can fly like a kite or be posted in the mail. Wish you were flat? Read these (the next best thing). Stanley Lambchop is the world's favourite flat boy. He's been as skinny as a pancake ever since a giant pinboard fell on him. Sounds ouch! But it's not all bad news. Being flat is kind of awesome. Stanley can slide under doors or be the sail on a boat. He even gets to blast off into space. Six classic original Flat Stanley novels. The boy is flat. The laughs are not.
#reading-lists-5
Fun Stuff
Activities
Draw your own flat town with flat people to live in it!

Find all the words from Flat Stanley's story.
Who's reading this?