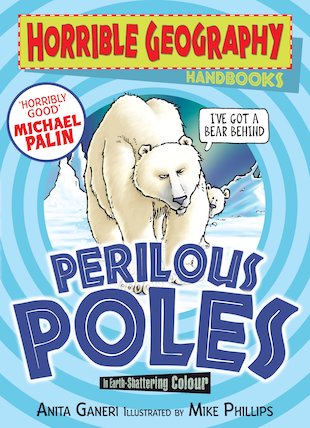 Look inside
Horrible Geography Handbooks: Perilous Poles
Get your mittens and toe-warmers ready! We're off on a bone-chilling trip to the perilous Poles at the utter ends of the earth, where the predators are hungry and the forecast is way below zero! So get your polar packing list ready and find out how to survive when things get really horrible! We're talking about a freezing cold desert where no rain has fallen for up to two million years; where the wind blasts along at 200 km per hour, and the winters can be a bit nippy at -65°C. So you'll need to know:
What to do if you get ice blink
How to tell a growler from a gomble
How to cross a glacier
How to have a pee without getting frostbite
If the terrible cold doesn't kill you, perhaps a peckish polar bear will. Or you may even fall down a colossal crevasse in the ice. But if you can stay alive, there are awesome aurorae to see, marvellous mirages to wonder at, incredible Inuit igloos, and wonderful wildlife of all kinds!
"This is a horribly good way to show that learning about our world can be fun. And seriously important." Michael Palin