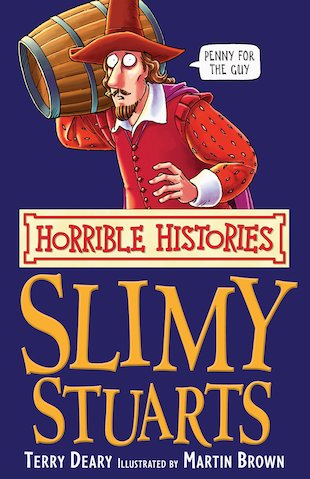 Look inside
Horrible Histories: Slimy Stuarts (Classic Edition)
The classic bestseller! No more boring nice-guy nonsense about history. It's time to learn it the horrible way. Which means taking a look at the Stuarts. Yes, really! OK, maybe you've never heard of the Stuarts. They don't sound very terrible, do they? But this book will tell you different! They ate toads, snails and fleas, and wore fish on their feet. Ugh! They had a nose-picking king who never washed his hands. Plus – there was fire, plague, the Gunpowder Plot and a savage civil war. Get the horrid facts – then test your teacher!
A bestselling original Horrible Histories classic
Full of jokes, cartoons, quizzes and funny facts
Written in Terry Deary's brilliantly witty style
Over 25 million Horrible Histories books sold
#horriblehistories-shopall
Fun Stuff
Quizzes
Activities
Follow the puzzle to find out what each of the knights won in their tournament.
Who's reading this?