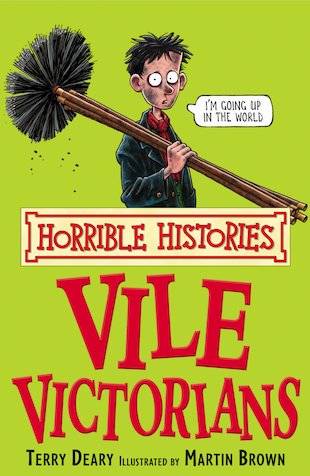 Look inside
Horrible Histories: Vile Victorians (Classic Edition)
Queen Victoria was the ultimate Victorian, and she was not amused. Luckily you'll be splitting your sides as you discover how disgusting the Victorians really were. They may have looked all prim and proper, but they were a jolly naughty bunch. From public toilets to smelly slums, gruesome glass eyes and creepy corpse-snatchers, take a closer look at this putrid period. You'll even discover the vile names Victorian kids were called and taste some rotten Victorian recipes!
A bestselling original Horrible Histories classic
Full of jokes, cartoons, quizzes and funny facts
Written in Terry Deary's brilliantly witty style
Over 25 million Horrible Histories books sold
#horriblehistories-shopall
Fun Stuff
Quizzes
Activities
Follow the puzzle to find out what each of the knights won in their tournament.
Who's reading this?