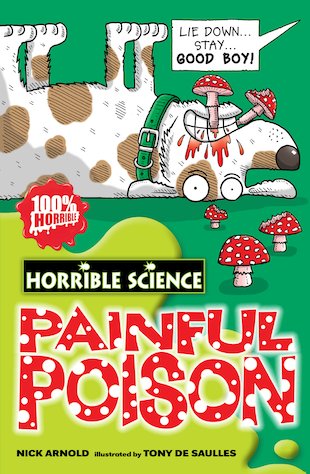 Look inside
Horrible Science: Painful Poison
Are you ready for a deadly dose of excitement? Painful Poison will petrify you! It's bubbling with killer substances that are strictly NOT for the nervous – and will have all kinds of evil effects on you. Vicious, venomous beasties. Scary snakes. Cruel chemicals. Gruesome gases. You'll need guts to take it in!
Read on if you dare to discover:
how to turn your brother or sister into a zombie slave
the horrifying secret of the vile vomit goblet
which toxin is so fatal that just one teaspoonful could kill 1.2 billion people
which awesome antidotes can save you (sometimes!)
which gases were used as wicked weapons of war
how sinister strychnine makes you die laughing
which poisons you munch on every day
Swallow a yummy spoonful of Painful Poison. You'll be dying to learn more!