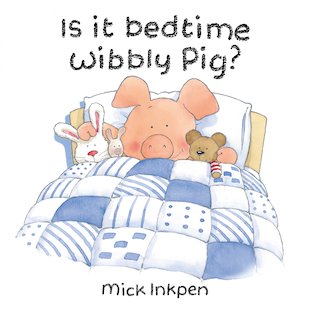 Look inside
Is it Bedtime Wibbly Pig?
Is it bedtime, Wibbly Pig? Not yet! Is it bedtime now? No! Wibbly Pig refuses to go to bed. He is swimming in the bath. He is busy bouncing. He is NOT tired and it is NOT time for bed! What will persuade Wibbly that bed is the best place for a little piglet to be? Could it be – "Are you asleep, Wibbly Pig?" – that Wibbly will finally go to sleep at last? Painting a familiar domestic scene in soft-as-butter illustrations, this cuddle-up book from the creator of Kipper is not to be missed.
"The perfect bedtime companion." Primary Times
"A charming story, familiar characters and delightful illustrations will make this a favourite." Prima Baby
#reading-lists-under-5
Fun Stuff
Activities
Colour in this picture of Wibbly Pig and his fabulous party bag!

Wibbly Pig has been to a party with Pigley. Use your favourite colours to colour him in.

Ask a grown up to help you make Wibbly's favourite easy-to-make banana cake, perfect for a tea party treat!
Who's reading this?