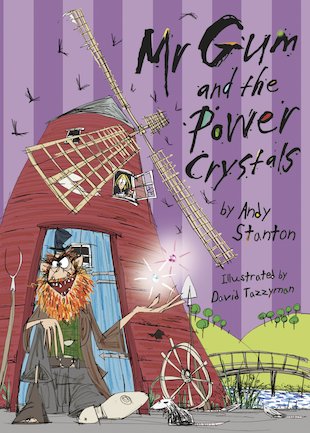 Look inside
Mr Gum and the Power Crystals
Shabba me whiskers! Can it really be true that there's an ancient curse on the town of Lamonic Bibber? Yes, you guessed it. That old roo-de-lally Mr Gum and his trusty sidekick Billy William the Third are behind it all! All the same, our favourite heroes Polly and Friday, and gingerbread biscuit Alan Taylor (only 15.24 cm tall) are determined to save the town (sigh of relief). So hang on to your heads as you are whisked to the land of talking dogs, silly songs, Old Granny, and the best chase scene you've ever seen! More merry Mr Gum madness to make you chuckle like a chipmunk!
Fun Stuff
Activities
Download this bonkers wallpaper for your computer!

Download the Mr Gum Card Tournament, complete with character cards with ratings for hairiness, intelligence, stink factor and more!

Download this funny Mr Gum wallpaper for your computer!
Who's reading this?