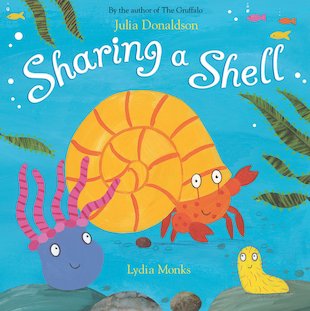 Look inside
Sharing a Shell
Look! A blob, a bright purple blob. What can this blob thing be? "Go away, Blob, whoever you are – you can't share a shell with me."
The tiny hermit crab loves his new shell. He doesn't want to share it – especially not with a blobby purple anenome and a tickly bristleworm! But life in the rock pool is tougher than Crab thinks. Soon he finds that he needs his new companions, and that sharing a shell is all about sharing friendship and problems too! Pairing Julia Donaldson's shimmering rhymes with vibrant artwork from Lydia Monks, this rollicking story of sea shells and sharing comes with a glittery cover.
Fun Stuff
Activities
Create your own seaside dominoes with fishes and shells.

Join the dots to discover what Crab, Blob and Brush are hiding in!

Play a fun Shells and Stars games.
Who's reading this?