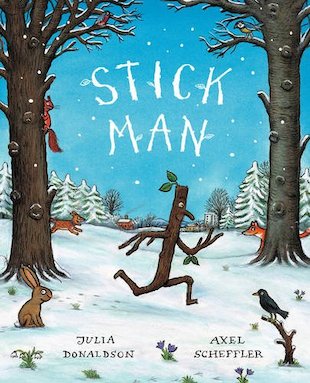 Look inside
Stick Man
Rhyming bliss from the creators of The Gruffalo. Santa even pays a visit in this snowy delight. One morning Stick Man goes for a jog, and forgets to watch out for an excited dog. Uh-oh: suddenly this poor stick is being tossed around for the dog's favourite trick! Carried far from home, Stick Man finds himself used as a flag mast, a cricket bat, a bird's nest… As summer turns to winter, will a lost, frozen Stick Man ever get home to his Family Tree? For Christmas, for bedtime, forever: a rhyme your whole family will love.
A rhyming classic by the creators of The Gruffalo
Heartwarming tale of family, courage and adventure
Screened as a

BBC

animated film for Christmas 2015
Perfect for sharing at Christmas – and all year round
#stocking-fillers
#reading-lists-under-5
#younger-readers
#young-readers
#ey-books
#young-readers-1
#early-books1
#primary-092016
#readandrespond-0816
#top100-092016
#top100-ages3to5
#families-rr
#bedtime-stories-1016
#starbuys-102016
#advent-1216
#christmas-nov16
#film-tv-nov16
#stocking-fillers-1212
#christmas-1212
#rrchildrens
#julia-and-axel-favourites
Fun Stuff
Activities
Join the dots to see where Stick Man is stuck!

Can you spot the five differences between these two pictures?