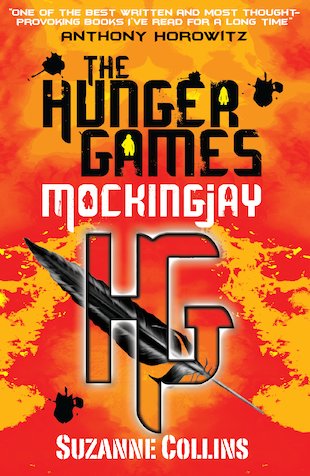 Look inside
The Hunger Games #3: Mockingjay
Can Katniss Everdeen win the final fight against the Capitol? Against all odds, she's survived the Hunger Games twice. But now that she's made it out of the bloody arena alive, her life is still at risk. The Capitol is angry. The Capitol wants revenge. Who does it expect to pay for the unrest? Katniss. And what's worse, President Snow has made it clear that no one else is safe either. Not Katniss's family, not her friends, not the people of District 12… Find out what the Mockingjay really stands for in the third book of the nerve-shredding Hunger Games trilogy – the addictive series that's got everyone hungry for more!
"Bare-knuckle adventure of the best kind." The Times
"The Hunger Games is amazing." Stephenie Meyer
"I couldn't stop reading." Stephen King
Fun Stuff
Activities
A poster of the brilliant Hunger Games trilogy for you to print out.

What to read next if you love futuristic dystopias like The Hunger Games.

Read an interview with Suzanne Collins, author of The Hunger Games.
Who's reading this?