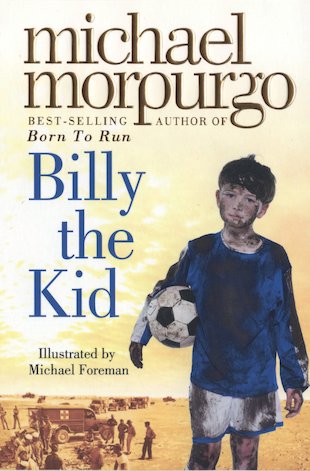 Look inside
Billy the Kid
A heart-stopping tale of football and war from one of the world's finest children's writers. The only thing Billy ever wanted was to play football! He was faster and better on the ball than kids twice his age. His dream came true when he was picked to play for Chelsea, and became a champion soccer star. But that was in 1939, the year the Second World War began… and Billy's life, like so many others, changed forever. Billy's no kid now – he's eighty. But he's got memories, such memories. Can he turn another boy with a passion for football into a Chelsea champ?
"A thrilling and moving story about a Chelsea footballer who gets caught up in the ravages of the Second World War." TES
"Told with all the author's open-hearted clarity, and richly illustrated by Michael Foreman." Guardian
Fun Stuff
Activities
See if you can find these words from your favourite stories in the grid.

Can you guess which Michael Morpurgo book these clues and quotes are from?

Can you re-arrange these words to discover more fantastic Michael Morpurgo book titles?
Who's reading this?