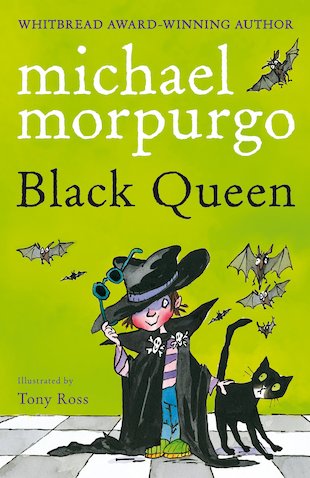 Look inside
Black Queen
"My blood ran cold. The Black Queen was looking down at me from out of the sun."
The Black Queen is what Billy calls his weird neighbour. She always wears a black cloak and a wide black hat. She lurks in her garden, alone except for her black cat. Spooky or what? So when the Black Queen asks Billy to look after her cat, he's nervous. Still, he can't resist peeking into her shadowy house. Inside, there are chessboards everywhere. What game is the Black Queen playing? Is Billy brave enough to find out?
A fabulously spooky short read from a master writer
Michael Morpurgo is a former Children's Laureate
His books include War Horse and Kensuke's Kingdom
An intriguing tale perfect for newly confident readers
Fun Stuff
Activities
See if you can find these words from your favourite stories in the grid.

Can you guess which Michael Morpurgo book these clues and quotes are from?