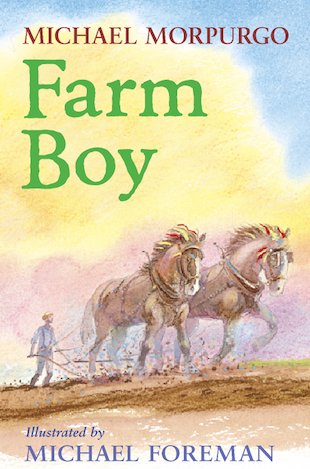 Look inside
Farm Boy
There was an old green Fordson tractor in the back of Grandpa's barn, always covered in cornsacks. When I was very little, I used to go in there, pull off the cornsacks, climb up and drive it all over the farm.
A boy gives his grandfather a great gift, and receives one in return, in this moving book from a master storyteller. Every time the boy visits his grandfather on his Devon farm, he is spellbound by the tales he tells: powerful stories of war, rural life and changing times. But when Grandpa confesses that his ability to read and write has slipped away, can the boy help him, and repay the gift of his stories? With fabulous artwork by Michael Foreman, this warm and vivid book celebrates the passing of time and the bond between young and old.
"If there are such things as contemporary classics, then this, surely is one of them." Books for Keeps
Fun Stuff
Activities
See if you can find these words from your favourite stories in the grid.

Can you guess which Michael Morpurgo book these clues and quotes are from?

Can you re-arrange these words to discover more fantastic Michael Morpurgo book titles?
Who's reading this?