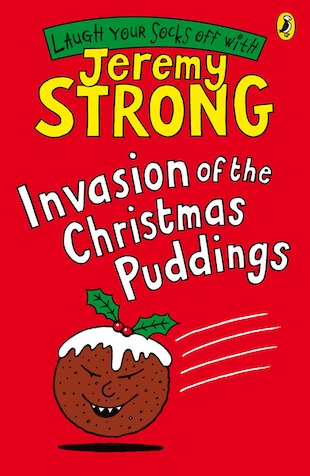 Look inside
Invasion of the Christmas Puddings
'Tis the season to be jolly tra-la-la-la-la!
But… AAARRGGH! Father Christmas's naughty brother, Bad Christmas, is plotting to take over the world. He's poisoned the Christmas puddings so they have very bad effects on any unsuspecting reveller who eats them – turning humans into ZOMBIES! Millions of Christmas puddings made of deadly sticky matter are pouring over from the Other Side! But four children from Plumpot Primary have escaped the zombie puddings. Are they in time to stop Bad Christmas and save the world? Or will they simply be… puddified? Cracking Christmas craziness from everyone's favourite author, Jeremy Strong.
Fun Stuff
Activities
Unjumble the letters to form titles of books by Jeremy Strong.

Speed up your desktop with this brilliant Hundred-Mile-an-Hour Dog wallpaper.

This is a weird and wonderful wordsearch!

Set Krazy Kow loose on your desktop!
Who's reading this?