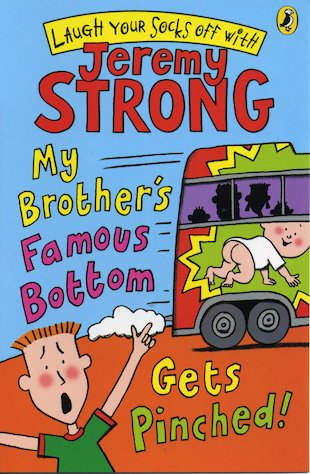 Look inside
My Brother's Famous Bottom Gets Pinched!
Hurray! Baby Cheese's famous bottom is going on tour to advertise Bumper Dumper nappies! But when the Bumper Dumper bus is hijacked and cute little Cheese is kidnapped, Nicholas must find a way to get Cheese's bottom back. Some naughty person has pinched Cheese's bottom, but who could it be? With giant babies and goats on motorbikes to tackle, Nicholas will need lots of help behind him to get to the bottom of the mystery… The smash-hit sequel to My Brother's Famous Bottom is a second hilarious outing for Nicholas, Cheese – and Cheese's bottom!
Fun Stuff
Quizzes
Activities
Unjumble the letters to form titles of books by Jeremy Strong.

Speed up your desktop with this brilliant Hundred-Mile-an-Hour Dog wallpaper.

This is a weird and wonderful wordsearch!

Set Krazy Kow loose on your desktop!
Who's reading this?