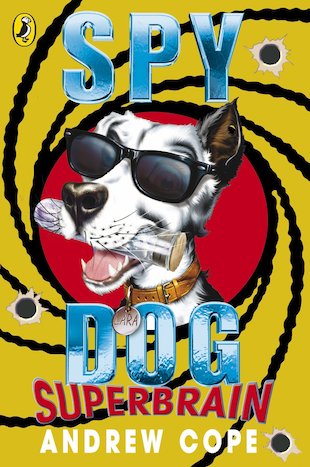 Look inside
Spy Dog: Superbrain
She drives cars. She's a PlayStation champ. She's got a black belt in karate. And she's a dog. Woof! Agent GM451 (or LARA to you – Licensed Assault and Rescue Animal) is the world's first spy dog. Her mission is to stop crooks and baddies, sniffing out their sneaky secrets. Now a gang of wicked headteachers are plotting to make their schools the very best. They're creating a secret 'superbrain' formula… and the final ingredient is the brain of a child. They'll stop at nothing to get what they want. They'll even ban playtime. Can Lara leap into action and foil their dastardly plot?
Fun Stuff
Quizzes
Activities
Spy Dog is the teacher's pet! Colour in proud Lara.

Colour in Lara and the neighbourhood watch team.

Colour in Lara working undercover in the classroom!
Who's reading this?